Reisig Seeds, LLC is for sale: call or text Heather - 785.491.2206
Who you are:

A honest go-getter who wants to buy and run a much-needed seed business in beautiful Russell, Kansas.
This is a turnkey business waiting for you to run it.  And, there is a desperate need for seed services in this area; people have been driving 3 hours to Colby to get their seed cleaned.
The Entire Reisig Seeds Business is for sale including:
Our customer list
Seedhouse with 3 cleaners: (One food grade and 2 length graders)
1 barrel tumbler treater by USC
semi-sized scale placed under ALL of the downspouts so you download on the scale
Bagger for bushel bags
9 grain bins — all have air
machine shed for storate
15 acres of land you can use to expand in the future,
and everything you need to start a seed cleaning business including grain conveyors, gravity wagons, forklift, pallet wrapper, brooms, scoops, ALL of it.
Everyone who has seen this facility loves the fact that all loading and unloading happens on the scale: no guessing and no waste.

Bonus: You also get a year of Heather's marketing skills to get you started.
Interested? Call or text Heather at 785.491.2206
General Technical Specs of the Facility
Seed goes through two different cleaning processes:


The first cleaning process:
The first seed cleaner is a 2011 Cimbria Delta 105.

This is a food grade cleaner.

It uses both air and gravity to clean.
We have screens to clean everything from Soybeans to Millet.
Fun fact: General Mills uses a larger one of these to clean oats for Cheerios.
We are not selling this separately at this time. We are selling the business as a whole.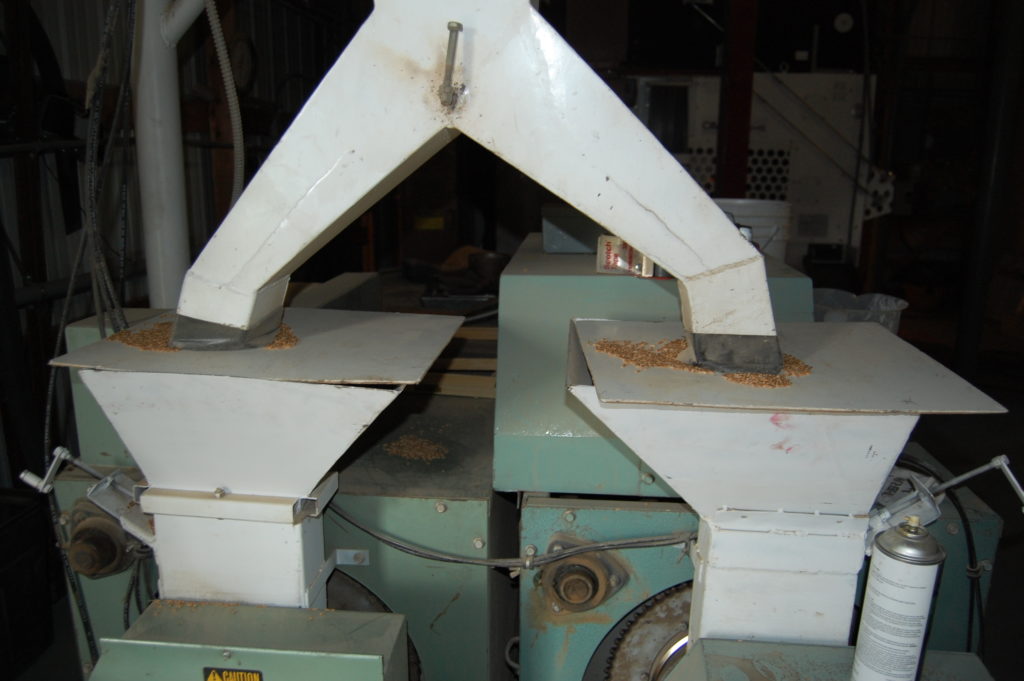 After being cleaned by the first cleaner, seed then travels through a second set of cleaners:
These are Crippen cylinder length graders set up in a parallel flow arrangement.
These work similarly to a gravity table.
Length graders separate seed by length:  broken kernels (too short) are rejected and kernels that are too long (jointed goat grass weed seeds, for example) are also rejected.
We are not selling this separately at this time. We are selling the business as a whole.
The seed treater:
Is a barrel seed treater by USC, LLC in Sabetha, KS.
Seed travels from bin above treater into a barrel where it tumbles on itself to ensure even product distribution.
Can treat with fungicide, insecticide and inoculant in one pass.
The seed tumbles out into a conveyor belt that carries seed into a waiting truck or bulk bag.
 We are not selling this separately at this time.  We are selling the business as a whole.
Yes, but how fast does it go?
The seed facility can clean and treat a full semi (1100 bushels or so) of wheat in about 3 hours and 20 minutes.  This means the wheat is emptied into the pit, travels through the number one cleaner, then goes through the elevators into the number two cleaners, then travels in the elevator again into the treatment bin and through the treater and back onto the truck in that amount of time.
Interested? Call or text Heather at 785.491.2206